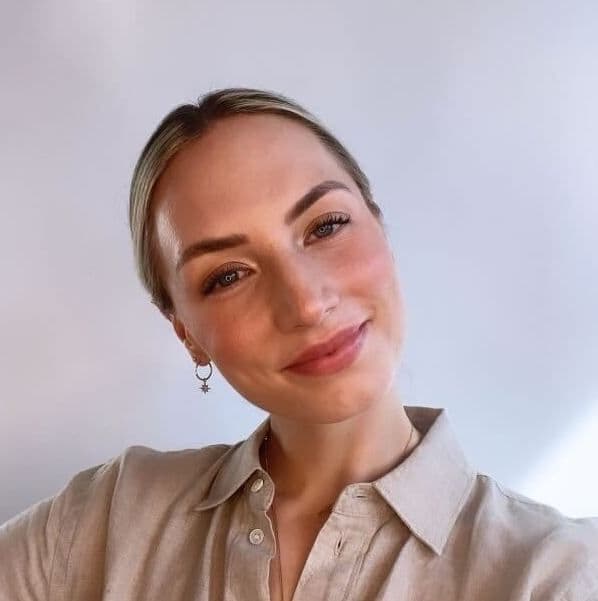 Lauren Gaynor
30-June-23
Let's talk about interview questions, how to ask good podcast questions, and why it's so important.
The more deliberate and considered your questions, the more your content will be valued by your audience (and beyond).
Obviously, the style of your questions will vary, depending on your subject matter. If this is a podcast about true crime and you're interviewing a bereaved family member, you're probably not going to ask them to tell you about their favourite sex toy. So, take the suggestions at the end of this article with your niche in mind. But there are thought starters for those who need a shot of inspiration.
Before we get to the good stuff, let's explore the opposite. The bad stuff. What's a bad interview question? 
Allow me to take you on a short journey of what not to ask. I know, I know, I KNOW, you want your content to be unique and interesting, ground-breaking and fresh. But unless your whole shtick is shock value (which, by the way, is not recommended if your goal is to continue interviewing guests on your show), then adhere, however loosely, to my advice below. You know your audience best, after all.
Don't be too vanilla. Covering off the basics is necessary, and you've obviously researched your guest before they're appearing on your show (and if you haven't, then, you should). But if they're well-known, there's going to be questions they've been asked already, dozens if not HUNDREDS of times. Give a spiel that covers these off when you're introducing your guest using your comprehensive research that we've mentioned above. This should cover off the basics and more obvious material so you can get down to the meatier, more riveting subject matter.
Be wary of how you phrase questions. You don't want to fish for specific answers or too heavily shape the narrative of the conversation by phrasing questions negatively, for example. You're probably a pro interviewer and don't need me to state the obvious but just in case, phrasing a question in a particular way can sway your guest's answer, and wouldn't you rather it be authentic? I know I would. And your audience probably does too.
Let's get personal. Don't be afraid to ask personal, intimate questions but make sure your guest is warmed up, ready to go there and comfortable first, so leave these toward the end of your session. And read the room, if it doesn't feel appropriate then trust your gut, it most likely isn't.
Okay so now that we've explored what not to say, let's cover what should be discussed.
Bring it back to basics. What's the goal of you interviewing this guest on your show? Is it to extract fresh fodder from them so your audience has a reason to spend their precious time listening? Yeah, I thought so.
This may sound obvious, but make sure you actually listen to your guest's answer. It's easy to remain focused on the question you're waiting to ask next, especially if you're a touch nervous. Have your questions in front of you and refer back to them when need be, but don't forget that the beauty of podcasts is cultivating meaningful and engaging conversation. The perfect balance between structure and flow.
How exactly do you come up with the perfect questions for your pod?
I could rattle off a list of the 50 most riveting questions if you want me to, but they'll be catering to my niche interests or you'll find them decidedly vague, extremely obvious and very vanilla. Shall we explore a formula that will work across a myriad of content? Okay then. Here's six helpful (I hope) steps.
1. What's the goal of your interview?
This was briefly mentioned above, but it's the fundamental that will help shape the entire episode. Why is this guest on your podcast? What are you (and in turn, your audience) set to gain from interviewing this person? The more defined your goal, the easier it will be to write your questions.
2. Quick, what's the first thing that springs to mind when you think of this guest?
We've covered the "what", so this is the "why". Now you know what the purpose of this episode is, you'll have had some immediate questions materialise into consciousness almost immediately. Jot them down, your natural curiosity will likely be echoed by your audience.
3. Make a list of your interviewee's interests.
This will spark help question inspiration and help you to build rapport. Explore similarities, unique perspectives, quirks, morbid fascinations etc. Your audience may pick up a new hobby, a life changing book recommendation, a panty-dropping recipe etc. The possibilities are endless if you take it a little outside the box.
4. What is it that YOU want to learn?
Assuming you're representing an audience of like-minded individuals, what information will you personally find valuable?
5. Speaking of your audience, what do THEY want to learn?
If you have direct access to you audience via a social media platform or similar, ask them what they're hoping to hear from an upcoming guest? There could be an interesting and untapped perspective, right at your fingertips.
6. Flip the perspective.
Why has your guest agreed to appear on your podcast? What is their goal for featuring on your show? What topics are they hoping to cover?
7. What's your signature?
Come up with a fun, signature question to ask each guest that will generate a unique answer. Me? I love asking people what their death row meal would be, starter, main AND dessert. It's decidedly morbid and the answers can be entertaining, exceptionally specific and quite revealing.
A thought on sending questions ahead of time
This is an age-old question of etiquette. And heavily debated. So here we're going to explore the pros and cons of each.
Sending questions ahead of time is just straight up polite, plus it can help your guest prepare to give the best possible answers.
A con here is that the answer is then too prepared, too rehearsed and therefore lacking in authenticity.
A solution is this. Send through a lovely little brief that touches on an outline of what you've prepared to touch on with your guest, without outwardly saying exactly what and without divulging your precise questions. This helps your interviewee have a general idea and prepare their answers accordingly, but still gives you some lovely off-the-cuff and authentic interactions and moments.
By now, you're brimming with ideas and armed with a list of the most excellent podcast questions. Trust me, I can just tell.
And so, dear reader, armed with your newfound trove of ideas and a glittering list of podcast questions, you now stand on the precipice of greatness. You're ready to captivate your audience with your wit, curiosity, and the unique tapestry of conversations you're about to weave. The stage is set, the mic is yours—it's time to let your show shine like the brightest star in the vast podcasting cosmos.